RCS Resource Center
Welcome to the MMA RCS Resource Center! This site aims to provide comprehensive information, thought leadership and real-world examples of RCS initiatives sourced from the companies at the forefront of this transformative messaging channel. The Resource Center has been created to assist brands, enterprises, technology providers and any organization looking to learn and execute in this new communications channel. Our goal is to aggregate the best knowledge about RCS into one place, from basic primer content to advanced future evolutions, and to aid understanding of RCS and how it can be deployed in the market today to address business and marketing needs.
Learn More About RCS
What Is RCS?
For all the innovation that has become part of the smartphone ecosystem, one constant is the popularity of texting and the increased use of SMS beyond subscription and campaign-based marketing programs. In fact, SMS remains the phone's most popular activity, and the one with the most immediate response. It is widely quoted that 90 percent of SMS texts are opened within three minutes, and they have a 98 percent read rate. SMS is also the largest communications platform, at 4.7 billion active users, far surpassing the second biggest, email, at 3.7 billion, based on 2017 data from Radicati Group and Statista.
The irony is that, despite SMS' hold on our attention, it has almost entirely lacked innovation since it was first offered on a mobile device in 1993.
That's where RCS comes in.
What is it? RCS — short for Rich Communication Services — is essentially "Messaging 2.0," the next-gen version of SMS. It incorporates the functionality and experience users have come to expect from mobile web and apps — especially other messaging apps. Technically, RCS offers interactivity with videos, images, animations, audio and other rich media, with scrollable content, interactive buttons and other app/web-like UI—all within a user's SMS inbox. With RCS, users can make video calls, engage in group chats, share high-quality pictures, buy a sandwich, reach out to a brand's chatbot for customer service help, store a boarding pass, make a reservation, check account balances, or scroll through brand content, products or offers.
RCS can seamlessly deliver dynamic content as well as enable new ways to engage with customers by combining the utility of messaging with the full potential of mobile; it presents a myriad of possibilities for marketing, content delivery, ecommerce and business operations engagements, across every vertical, as an interactive, rich media messaging experience.
---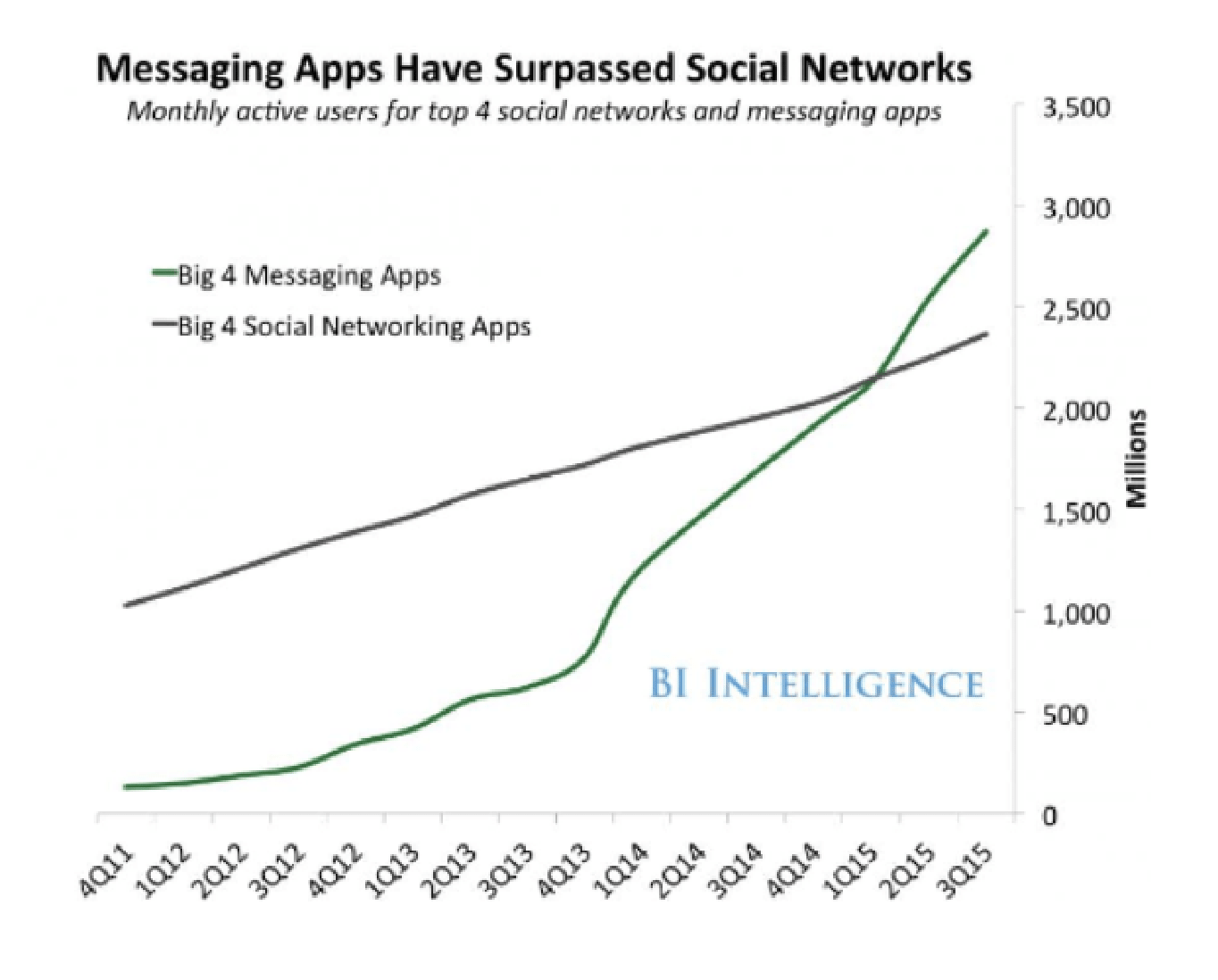 Courtesy of Sinch
As carriers, hardware manufacturers, consumers, and other components of the mobile ecosystem embrace RCS, it will be a platform marketers will need to know about, particularly since its emergence dovetails with three major trends.
The voracious consumer appetite for messaging. Along with the persistent ubiquity of SMS, the last few years have seen an explosion in users of OTT messaging apps. In fact, according to data from BI Intelligence, users of the four biggest messaging apps surpassed those of the four biggest social networks in 2015, with significant improvements in functionality. Consumers are looking for rich media interactivity in the messaging experience, and the largest OTT messaging app providers are building for this; however RCS represents potentially the largest deployment of this experience since it takes place in the phone's native SMS app—not in a third party downloaded OTT messaging app.
Low usage rates and penetration of marketing apps. According to 2017 research from TechCrunch — despite the dozens of apps most of us have installed on our phones — we spend the vast majority of our app time using only ten of them; and apps from marketers are certainly not a consumer focus. In terms of usage, the top five categories of apps are in social media, utility, games, video and audio, per The Forces of Change, a 2018 report from Hearts + Science. Brands find it increasingly difficult to drive brand app downloads and adoption, and once downloaded they tend to be used sparingly or discarded.
The growing comfort level with chatbots on the part of both consumers and marketers(for more detail, see "Benefits of RCS" below). For marketers, RCS can serve as a go-to platform to expand their meaningful interaction with consumers, providing scale, the ability to finely tune their messaging to individual customers, and the ability to mine better data on customer interactions. RCS brings to market the concept of "conversational commerce."
How does it work?
Of course, one benefit of SMS – and, now, RCS – is that unlike familiar messaging apps, users do not have to download anything to access it. Like SMS, RCS is available on a user's phone in frictionless ways: accessed as the native SMS app pre-loaded on a new smartphone, activated via a routine SMS app update with an operating system update or through a new initiative from Google where it is launched through a peer-to-peer chat. For marketers, this means if they are already connected to a customer via traditional SMS, that relationship moves seamlessly and effortlessly to RCS features and functionalities. A marketer could communicate using SMS one day and then, after building an RCS message, begin communicating via RCS the next. As the transition happens, the channel will offer the flexibility to use SMS, MMS and RCS interchangeably, depending on the what kind of messages the user's device is enabled for.
Knitting the ecosystem's phones and networks together is the Universal Profile (UP), a specification that is being rolled out to mobile operators across the globe. The GSMA (aka Global System for Mobile Communications, originally the Groupe Spéciale Mobile Association) is the mobile industry trade organization that represents the mobile carriers, or mobile network operators, as they are called outside the U.S. The UP ensures RCS is enabled and interoperable between networks and handsets. Google, which also supports the UP, is additionally pursuing the expansion of RCS' footprint through a new strategy (see "The Size and Scope of RCS" below). At present, RCS is live in-market on Android handsets only. The types of RCS enabled depend on manufacturer/handset/carrier—some are enabled for only person to person RCS, others enabled for commercial messaging either as brand RCS reply/broadcast messages, chatbots or both. Apple has not released RCS for the iPhone yet, with its RCS strategy and capabilities in relation to the UP to be announced.
RCS Benefits
As its distribution expands, the benefits of RCS may accrue to all parts of the mobile ecosystem:
For consumers: RCS can ameliorate the need to use multiple messaging apps – WhatsApp, Facebook Messenger, Google Hangouts, and others — to both access advanced features, and communicate with friends and family. If you're like many consumers, you might use FB Messenger as a directory-like method of connecting with most of your acquaintances, Snapchat Stories to connect with a smaller group of friends using rich media, WhatsApp to stay in touch with friends while they're traveling, and your phone's native messaging platform to connect with your family for general messaging. Since everyone with a smartphone has a mobile number, all of this communication can take place via RCS using the phone's native messaging app. This means that the additional barrier of downloading a third-party app can easily be circumvented as the capability of rich messaging will be inherently baked into the native messaging. The friction is reduced for the consumer who doesn't have to download an app, go to a website, retrieve their username and password, contact a separate business group for customer support, or check their email for a confirmation. Here's a of just some of RCS' features:
Make video calls
Share location information and make video calls by default
Make purchases
Deliver read receipts
Scroll through multiple videos, images, animations, maps and other rich media content
Scroll through multiple buttons to quickly access content or web destinations
Provide better group chat capabilities
Send/receive larger, higher-quality images and photos
Access a much broader array of emojis
Stream audio and video
Group Chat
Make use of a number of in-call and post-call features
Engage in interactive conversations and automated dialogs
Utilize chatbots, building on the popularity of conversational commerce
Suggested replies and actions
RCS message senders are verified, providing trust and assurance
For marketers: RCS has the potential to be a better way to reach mobile consumers, without the burden of developing and maintaining a dedicated app. In essence it offers the powerful combination of the reach of SMS and the engagement of app/web-like rich media interactivity—all within a conversational "message" paradigm. The fact is that consumers have long focused their app usage on certain kinds of activities – and brand apps rank very low in their usage preferences. According to July 2018 research from ThinkNow Research, shopping/retail apps were only the eighth most popular type of app installed on users' smartphones. The top five categories were social networking, weather, maps/navigation/search, games and music streaming. In fact, US app users spend almost half their time on their top app (Facebook), 77% of their time on their top 3 apps, and 96% of their time on their top 10 apps (Statista 2017). By penetration, the top 10 apps are either social networks (FB, Instagram, Snapchat), search (Google, Google Maps), media (YouTube, Google Play, Pandora) or messaging platforms (Gmail). None are commercial or brand environments. In terms of share of mobile app time spent by content category, retail accounts for just 3%, most of which is dominated by Amazon's share (Comscore 2017). This all points to the opportunity presented by RCS to reach customers, using owned media and customized experiences, via a new channel already in high use that is not overshadowed by outside digital platforms.
Additionally, RCS:
Allows consumers to communicate with brands in natural language in real-time (see "RCS and Chatbots" below).
Makes it possible to deliver highly-targeted and relevant advertising and promotions that are much richer than the SMS experience.
Can manage transactions, product shipment, or customer service.
Provides an experience where content and actions can be browsed, consumed and acted upon quickly and conveniently.
Offers content and interactivity as rich media (video, images, animation, audio, graphics, maps etc.)
Presents the messages in a brand name, colors and logos integrated into the message look and feel.
Provides much deeper insights than SMS, because of the different types of interaction that can be measured, such as delivery and read receipts, transactions, on-screen event tracking and custom call-back data, which tracks the how a user engaged with a message and the ongoing conversation at every touch point.
Many marketers are taking notice. According to a 2017 Enterprise Messaging Survey conducted by Ovum, more than a third of enterprises were planning to adopt RCS for enterprise messaging. The features they showed the most interest in were:
Leveraging images and video (94%). 
Delivering chatbot experiences (89%). 
Employing location-based functions for more contextual messaging (83%).
For mobile operators: RCS presents an opportunity to stem the tide of consumer migration to messaging apps, which has been impacting their revenue from texting.
For hardware manufacturers: RCS can become a differentiator as SMS moves to the "next-gen" RCS on new phones. Consumers will perceive a phone offering messaging as an RCS experience as being "superior."
RCS and Chatbots
As noted above, perhaps the most exciting RCS use case for marketers is conversational commerce. Significantly, it comes at a time when consumers – especially younger ones — are becoming more comfortable with AI-powered customer service. The messaging app WeChat, in particular, has helped popularize AI customer service – especially in China – because of its transactional capabilities, but consumer comfort-levels worldwide with technologies such as chatbots is growing.
A November 2018 study by Aspect showed that 63% of U.S. millennials were comfortable with non-human customer service interaction; 48% of Gen X had a similar comfort level. An October 2017 report from PointSource said that in the U.S., users preferred chatbots over humans when it came to a wide range of customer service functions, such as searching for pricing and tracking packages.
Much of RCS' commerce and customer service functionality is delivered via chatbots and customized action and reply buttons. These buttons can be configured as a scrollable set of pre-determined replies or actions to guide users through a workflow. For example, if a particular user is looking to refill a prescription, a chat can be initiated with his or her local drug store via RCS. A chatbot will suggest several options such as connecting with their account, refilling a prescription and more. Instead of a user having to type a keyword or reply, he or she can simply tap a "chip" (a button in RCS terminology) to interact with the brand. The workflow is determined by the user's actions and can leverage other RCS functionality, such as buying the prescription, giving the user directions to the drug store with an image map, or more information about the drug including use information via video.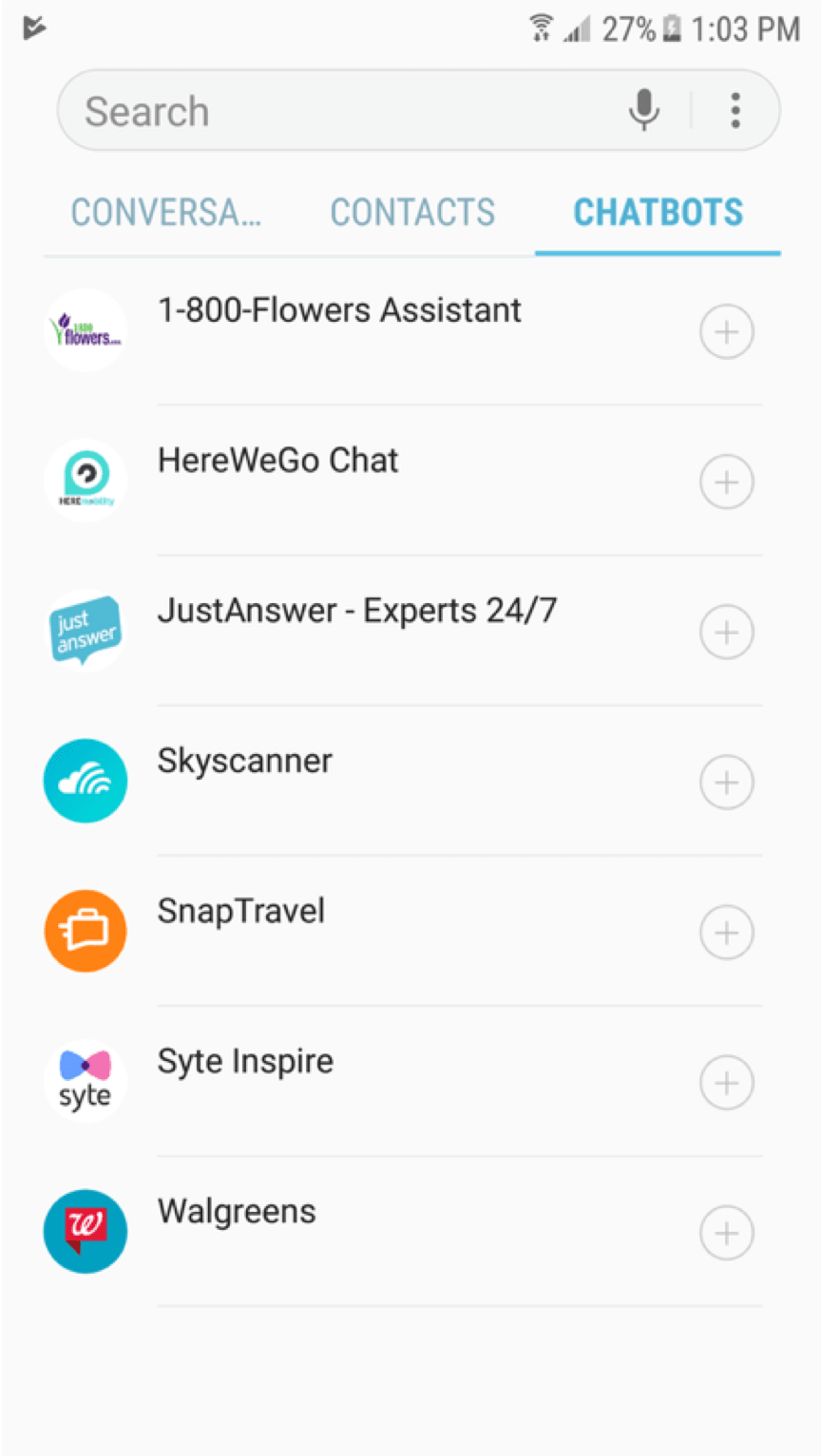 RCS messages can be delivered in two ways: as a message reply or broadcast to a list (A2P message) or within a branded chatbot that exists within the SMS messaging app itself (P2A). The availability of the brand to be searched/accessed/saved directly within the phone's native messaging app—in RCS parlance the "chatbot directory'—is a new messaging innovation never available before. For example, on certain phone models a new "chatbot" tab will appear within the standard messaging app next to the existing "conversations" tab (for incoming/outgoing SMS/MMS/ RCS) and "contacts" tab (user's contacts list). Within this "chatbot directory," the user can search for brands they wish to initiate an RCS chat, and save their favorite brand chatbot directory for easy access and use in the future. In anticipation of a time when RCS will be in broad use by marketers and consumers, chatbot directories are emerging as a way to give users access to brands they frequently interact with as easily as they reach out to their friends in contacts. As the telecommunications trade Journal Pipeline put it: "Think of the directory as a new app store—a place where consumers can proactively seek out chatbots and engage with their favorite brands on their own terms. But unlike Google Play or the Apple App Store, consumers have no apps to download, keep updated or decide if the app is worth the space on their device."
The RCS Marketing Ecosystem
The RCS marketing ecosystem incorporates many players: brands, marketing agencies, marketing technology platforms, aggregators/RCS infrastructure, carriers, handset manufactures and handset messaging app providers. Officially, marketing that moves over RCS is called RCS Business Messaging. As illustrated in the diagram below, the ecosystem is broken into traditional marketing-focused organizations, service providers and aggregators — which facilitate the development of the messages themselves — and hubs and carriers, which have the distribution networks to disseminate the messages. (This section of the GSMA site is an excellent ecosystem resource.) As all the parts of the ecosystem are involved, it will facilitate the scale that transforms messaging activity from being app-based to platform-based – or Messaging as a Platform (MaaP) – making all the benefits of rich interaction possible simply by having a smartphone.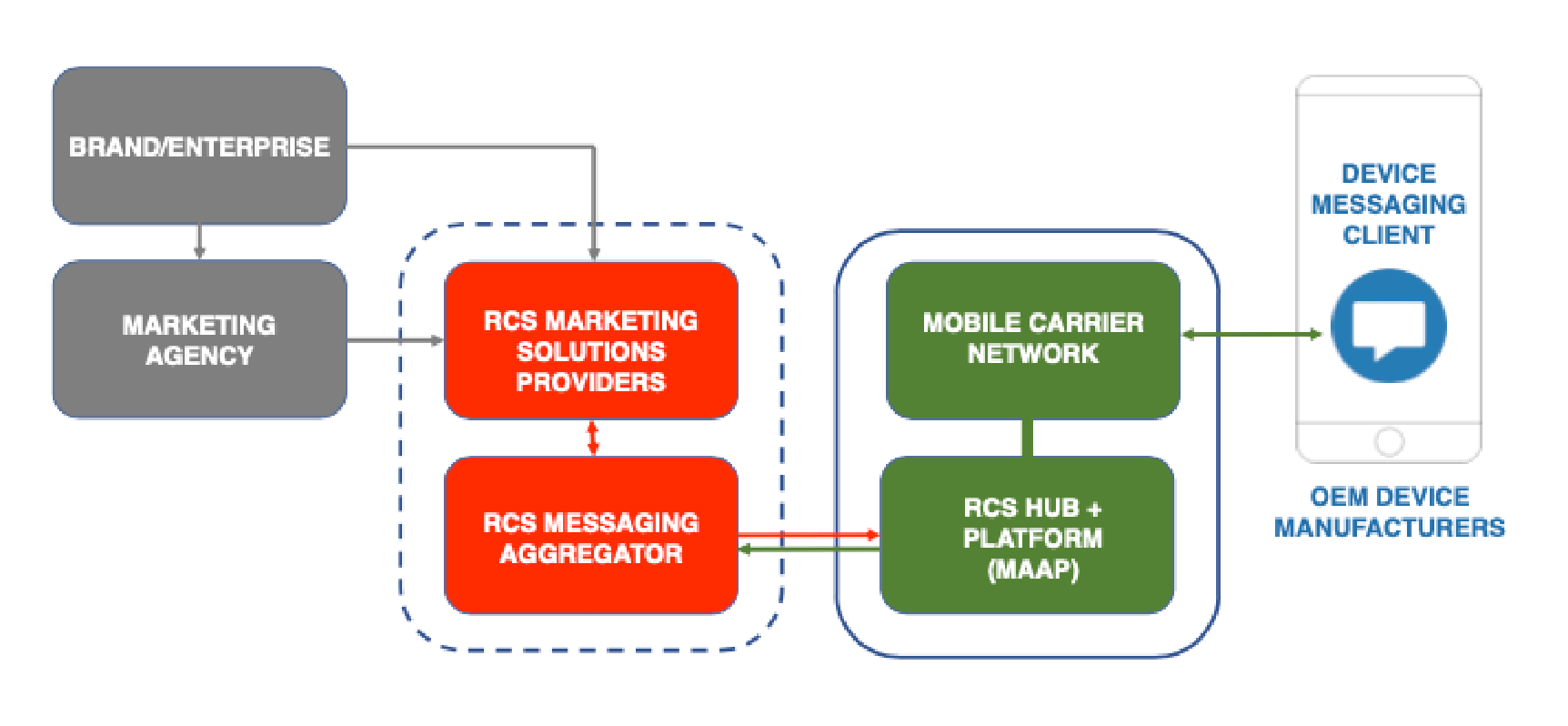 Courtesy of Sinch